Personalized Tree Care by Professional Arborists Phoenix, AZ
Count on the experience and skill of our trusted and Certified Arborists to address your specific needs.
Why choose Trees For Needs as your trusted tree care company?
Our customers want professionals that know tree care and insist on someone they can trust with what most likely is the largest investment in their landscape. Our tree workers are more than just tree workers. They are professional arborists with exceptional workmanship– trained, knowledgeable, and experienced. Arborists Arizona Phoenix residents can count on apply the skill and judgment needed to accomplish your specific goals, whether it's structure pruning a newly planted mesquite, or the largest removal. Our office staff is really nice, too!
Read What Our Customers Are Saying
"They did an incredible job. They even followed up months later to see how it was doing. These people are reliable, efficient, and caring. Highly recommend!"
"Customer service is top notch, the work is perfect, their honesty is refreshing, and their prices are so good. It really is one of the best companies I've ever worked with!"
Diane B. (Fountain Hills, AZ)
"The knowledge and care that Carl puts into his work is amazing. Every single encounter has been professional and on target. Too bad you don't have more stars!"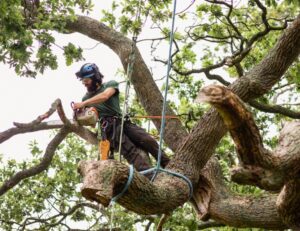 Trees grace our landscapes with beauty and provide shade on scorching summer days. However, there are times when a tree needs to be removed for
Read More »