Irrigation in Phoenix, AZ and Beyond
Nourish your landscape with precision irrigation: professional solutions for thriving trees, bushes, plants, and cacti.
Irrigation Services for Trees, Bushes, Plants, and Cacti in Phoenix, AZ and Surrounding Areas
Not sure what's happening with your plants?
Are you experiencing mysterious issues with your plants?
Do you suspect a leak somewhere in your irrigation system?
Unsure if your trees and plants are receiving the right amount of water?
Concerned about overwatering or underwatering your landscape?
Do you find ducks making themselves at home in your yard after watering the grass?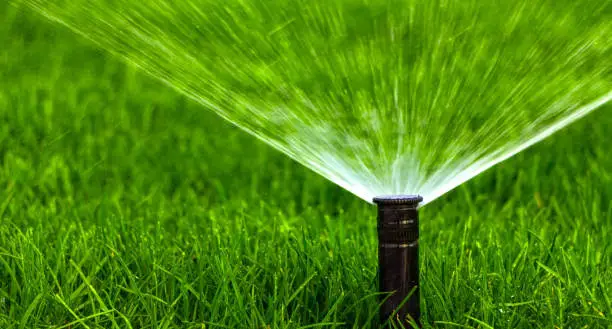 You can do everything right for your trees, plants, and turf. Proper planting, feeding, trimming, and cutting. You may spend countless hours and dollars on your landscape.  
But if they aren't getting the proper water they need, it may not even matter. 
Plants are no different than people or animals, we all need water. But how much? 
Different plants have varying needs. Some yards in Phoenix may have just a tree or two, or a couple bushes, while many have a whole variety. Trees, bushes, flowers, grass, and a garden, all in the same yard. 
We can have an irrigation specialist meet with you for a no-cost assessment to find out what is going on in your landscape and develop a plan that will meet what you want and need. 
Due to the harsh weather and soil conditions, many irrigation systems in Phoenix are rated for an average life span of only  10 years.  
Sometimes a simple repair may be all you need. A broken sprinkler head, or a simple leak. However, if your system is pushing or past that 10-year mark, sometimes one repair can lead to another repair and another and another. Aging irrigation systems often experience a cascade of issues as components wear out and become less reliable. While a simple repair might solve an immediate problem, it can be a temporary fix that masks underlying issues.
Whether you need a simple repair or a full irrigation system installation, call today to have an irrigation specialist give you a no-cost assessment of your landscape!
Why Choose Trees for Needs for Your Irrigation Needs?
Expertise in Desert Landscapes: With our extensive experience in Phoenix, AZ, and the surrounding areas, we understand the unique challenges and water requirements of desert landscapes. Our team of professionals is well-versed in designing irrigation systems that maximize water conservation while promoting healthy plant growth.
Quality and Warranty: We stand behind the quality of our work and offer a 1-year, 1-time replacement warranty on plantings. You can have peace of mind knowing that your newly installed plants are backed by our commitment to their success.
Our Irrigation Services​ in Phoeniz, AZ and Beyond
Ensure the proper hydration and well-being of your trees, bushes, plants, and cacti with our expert irrigation services. Proudly serving Phoenix, AZ, and neighboring cities, Trees for Needs is your trusted partner for all your irrigation needs. Contact us today to schedule a consultation and let our team create a customized irrigation solution that suits your landscape's unique requirements.